CalFresh Outreach & Education
APIFM is a member of BAILA (Benefits Access for Immigrants Los Angeles), partnering with diverse coalitions in Los Angeles to inform, engage and enroll residents into vital programs such as CalFresh.
APIFM Community Engagement Coordinators lead culturally relevant outreach to API community members across LA County by developing in-language resources, tabling at community events, and collaborating with other community-based organizations.
The team is now working in Chinatown, the South Bay, and West San Gabriel Valley (WSGV) to offer group presentations, 1×1 education, and navigation workshops about the CalFresh program.

To schedule a workshop please email: calfresh@apifm.org
Enrollment Navigation Assistance
As BenefitsCal enrollers, the team can support community members directly with every step of the often laborious process of enrolling in CalFresh, and troubleshoot any issues with using their dollars afterward.

To request enrollment assistance please email: calfresh@apifm.org
CalFresh, federally known as the Supplemental Nutrition Assistance Program (SNAP), is a state-supervised, county-operated food program that provides low-income individuals or households with monthly electronic benefits (EBT) cards that allow them to purchase nutritious food. These EBT cards can be used to buy food at most authorized markets and grocery stores.

This Google Map visualizes grocery stores in Los Angeles County that specialize in serving the Asian American and Pacific Islander populations. Green pins indicate grocery stores that accept CalFresh; yellow pins indicate grocery stores that do not accept CalFresh. Each location point also indicates information regarding WIC.
APIFM works to ensure that policy makers, API serving organizations, and API community members who are eligible for, but aren't using CalFresh, have the resources, tools, and support to access these critical services.


Asian American CalFresh Healthy Living Implementation Guide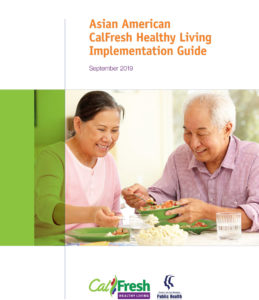 Enrollment Eligibility Info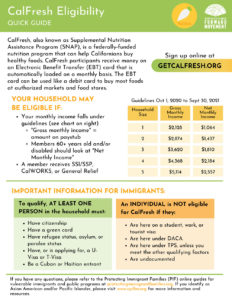 Calfresh-Provider-Guide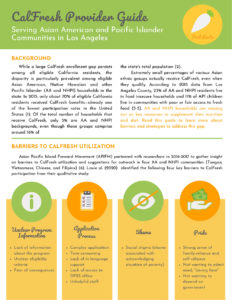 While a large CalFresh enrollment gap persists among all eligible California residents, the disparity is particularly prevalent among eligible Asian and Pacific Islander (API) households in the state. In 2015, only about 70% of eligible California residents received CalFresh benefits. Of the total number of households that receive CalFresh, only 5% identify as API. Thus, eligible API families are missing out on key resources to supplement their nutrition and diet.
APIFM partnered with researchers in 2016-2017 to gather insight on barriers to CalFresh utilization and suggestions for outreach in four API communities (Tongan, Vietnamese, Chinese, and Filipinx).
Learn more about how you can help API community members access and receive CalFresh support.
We need your help evaluating the DPSS hotline to ensure that accurate and respectful services are being provided in language
Call: (866) 613-3777, DPSS hotline number
Select language choice on menu
Navigate to CalFresh support
Connect with CalFresh support representative
Record experience with in-language support and capacity
How long does it take to connect with a representative?
Are you on hold for a few minutes or hours before transferring to someone?
Is the live representative fluent in the language you selected?
Is the live representative helpful? Easy to understand?
If you are bilingual and able to help complete an in-language evaluation call to the DPSS hotline, please email info@apifm.org.
To request enrollment assistance please email