APIFM intern, Kayee Liu, made this helpful Google map (below) of different institutions, services, and businesses in Chinatown. Thanks, Kayee!
Here's how to use it.
In the top left corner of the map is a window. (It looks like an arrow pointing into a box.) Click that!
Click the checkbox selections to view the corresponding markers on the map.
Click on the colored markers to see their descriptions.
Want to zoom in quickly? Here are shortcuts:
Mac – Command(⌘)+Scroll(Two-finger)
PC – Ctrl+Scroll
Here's a short summary of each category:
Chinatown border: Outer boundaries of what is currently Chinatown, Los Angeles
Produce and markets: Locations where at least 3 or more fresh fruits/vegetables are offered. Can range from supermarkets to informal outdoor vendors.
L.A. city services: Services provided by the city of Los Angeles
Chinatown services: Groups, organizations, and other entities that provide services and resources for Chinatown
Convenience stores: Locations that do not offer produce, but predominantly snacks and sugary beverages.
Health services: Various medical services including dentistry, medical doctors, optometrists, and pharmacists
Chinese medicinal shops: Locations of traditional herbal medicine shops located in Chinatown
Religious centers: Temples and churches in Chinatown
This data was collected through a walking survey as well as an analysis of existing community resources lists. If you would like to add something to this map, please email info@apifm.org.
Enjoy!!! And see below the map for a bio of Kayee!
About Kayee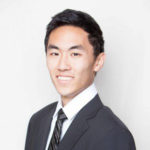 Kayee Liu is an outgoing, driven, and fun-loving kid (at heart) who enjoys guiding people to find their own solutions. He is a dietetic candidate pursuing a Masters in Nutrition, Healthspan, and Longevity at USC Davis School of Gerontology. After discovering a natural pairing between his background in healthcare and his love for food and the culinary arts, Kayee believes that nutrition and dietetics will be on the forefront in the future of medicine and public health and hopes to seamlessly connect culturally relevant nutrition to people from all walks of life. With his off time, he enjoys playing/watching basketball (Let's go Lakers!), eating at unknown restaurants, watching both fantastic/terrible films and connecting with his friends and family. Areas of interest include Nutrition Education, Retail Food Service, Bariatrics, Diabetes, and Sports Nutrition. Kayee holds a B.S. in Human Biology and Society from UCLA with a concentration in Medicine and Public Health and a sub-focus in Microbiology, Immunology, and Molecular Genetics.